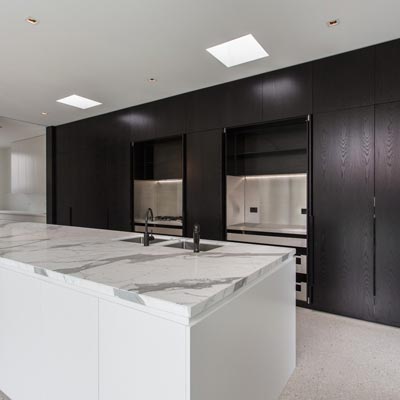 Clear Kitchen Solutions can produce all the needed fittings and accessories from only the best quality materials available in Australia. Our factory located in Dandenong utilises CNC Woodtron machine to produce products that are needed for custom made kitchens, laundries, vanities, and wardrobes. We also offer different types of office and factory fitouts.
Translate Your Ideas into High-Quality Craftsmanship
The combined years of experience and skills of our team allow us to turn your ideas into drawings, assist you in the design process, and come up with your desired results. We closely pay attention to the approved architectural plans and drawings and follow them accurately. Our capabilities also enable us to effectively build, renovate, and join components of materials into more complex and intricate products. We maintain the functionality and aesthetic qualities of your products so that they can match your kitchen, laundry, vanity, or wardrobe.
Work with Value-Oriented and Skilled Experts
Our commitment to high-quality workmanship is exceptional. Therefore, we maintain punctuality by following the timeline set by the building schedules. We also communicate with the builder, owner, and architect to achieve the desired result without any mishaps and misunderstandings. Specialised tradesmen like plumber, electrician, painter, and carpenter are organised as well to make everything work according to plan.
Ensure Quality Without Sacrificing Functionality and Aesthetics
When it comes to custom furniture, our whole team can readily produce cabinets, desks, wardrobes, bookcases, and reception desks. We can also work with furniture items that are needed for television units, entertainment units, and buffet units. As for fitouts, some notable areas that we service include outdoor entertainment areas, BBQ areas, countertops, shops, workstations, and the entire home.
The Process
Here is a short overview of what to expect once you decide to work with Clear Kitchen Solutions.
An appointment time will be set between the client and our company for us to visit the place.
Both parties will discuss and measure up everything needed during the meeting.
A quote with important details will be provided to the client via e-mail or other means.
The client is set to review the quote. We will answer any questions regarding the quote promptly.
If proceeding with the project, we will provide a drawing and a final check measure.
Once the quote is accepted and approved, the client must sign a form and make a deposit.
The company will order the materials right away. The manufacturing process will follow.
Requested products will be delivered and installed. The final payment will be collected once the project is complete.
For more information, browse our website. You may also contact us at 0438 067 184 or (03) 9791 5062 or visit us at 24B Dingley Avenue Dandenong Vic 3175.